The Inspiration for this 1953 Hermès design by Hugo Grygkar, the Father of the Hermès carré, as I like to call him, comes most likely from a painting by Jean-Auguste Bard called Gens de service de la maison du roi Louis-Philippe by Jean-Auguste Bard (1840), now housed in the Musée de la Voiture in Compiègne.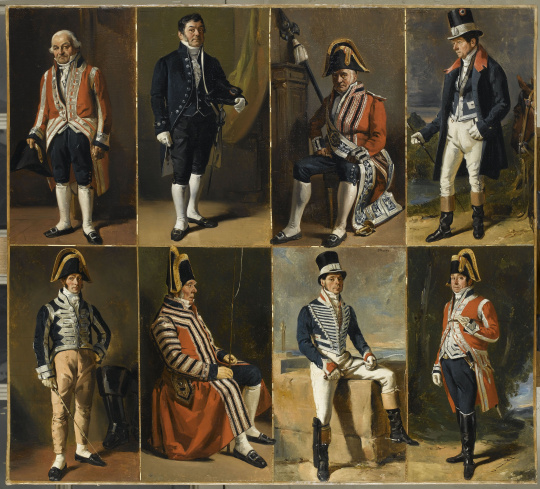 photo courtesy IMAGES D'ART
Cochers des Écuries Impériales Hermès carré (Coachmen of the Imperial Stables) features a group of coachmen in their uniforms.
During the nineteenth century and the reign of Louis Philippe I, the carriage or coach was the mode of transportation. Although no longer a novelty in its day, the coach was still admired and consequently a lot of attention was given to both the coach and its "driver", which included the uniforms of both the coachmen and their pages.
A coachman's uniform did not necessarily have to be practical as it had to be formal, dressy and a status symbol of the coach's occupants and owners. Many times the very identity of a coach's owner could be gleaned from just the uniform itself.
The Bois de Boulogne (Hermes carre featuring this Parisian park – in a previous post) was the perfect place to see and be seen.

Hugo Grygkar's Cochers des Écuries Impériales Hermès carré is only one example that showcases French uniforms, a favorite theme, especially in the early years of the carre.
Some other examples are A La Gloire De La Legion Etrangere also designed by Hugo Grygkar in 1951 and his earlier Grades de la Marine from 1947. The Garde Consulaire by Philippe Ledoux (1966), a very talented artist, and one who also helped shape the evolution of the Hermès carré.
Here the classic Cochers des Écuries Impériales Hermès carré, currently available in our store.

Cochers des Ecuries Imperiales Hermes silk scarf was designed by Hugo Grygkar in 1953 – AVAILABLE